Following the recommendations of the State Civil Protection Coordination (CEPCO) of Oaxaca due to weather conditions and forecasts due to the passage of tropical storm "Bonnie", the State Institute of Public Education of Oaxaca (IEEPO) reported the suspension of classes this Monday, July 4 in Costa, Istmo and Sierra Sur.
Guerrero authorities suspended classes at all levels due to Hurricane Bonnie.
The State Secretary of Education assured that the objective is to safeguard the physical integrity of students and teaching staff.
The suspension of face-to-face classes will apply in the municipalities of the regions of Costa Chic , Montaña, Acapulco, Costa Grande, Cerro and the upper part of the Sierra.
Hurricane "Bonnie" will cause intense rains in Michoacán, Guerrero, Oaxaca, Chiapas and Veracruz.
Hurricane " Bonnie " of category 1 will cause heavy rains on Monday at intense points in states in the south and southeast of the country, as well as strong gusts of wind and high waves on the coasts of Oaxaca and Guerrero, predicted the National Water Commission ( Conagua ).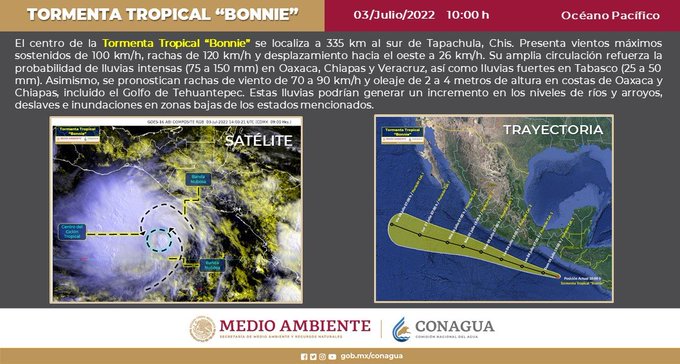 According to the decentralized agency of the Ministry of the Environment and Natural Resources (Semarnat), "Bonnie" will generate intense rains in Oaxaca, Michoacán, Guerrero, Chiapas and Veracruz, noting that the hurricane maintains a rapid displacement towards the west-northwest, parallel to the Mexican Pacific coast.
"Bonnie" strengthens to a category 1 hurricane on the coast of Oaxaca; heavy rain forecast
Conagua forecasts indicate that " Bonnie " will intensify tomorrow, Tuesday, to a category 2 hurricane 285 km southwest of Tecpan de Galeana Guerrero, decreasing to category 1 on Friday, July 8, 870 km southwest of Cabo San Lucas, in Baja. 
This Sunday, it was reported that the tropical storm "Bonnie" intensified to a category 1 hurricane on the Saffir-Simpson scale.
The National Meteorological Service (SMN) reported that "Bonnie" was located 285 kilometers south-southeast of Bahías de Huatulco, Oaxaca, and 335 km south of Salina Cruz, in the same entity.
The National Meteorological reported that before the advance of the "Bonnie" there will be intense rains in Chiapas, Oaxaca, and Veracruz during the next few hours.
There will also be very heavy rains in Guerrero and Puebla, while heavy rainfall is expected in Tabasco.
These rains could cause an increase in the levels of rivers and streams, floods, and landslides in these states.
The now category 1 hurricane "Bonnie" is moving along the Pacific coast "quickly," Conagua said in a statement.